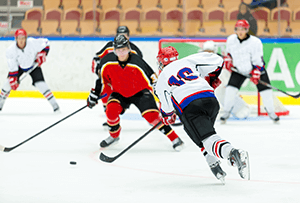 We are currently featuring some WIH programming which stands for Women in Hockey.  These broadcasts are seasonal, so check back at this site for dates and times.
Women in Hockey
Hockey has not been a male-oriented sport since the Women's Hockey World Cup, which was held for the first time ever in 1974. It is a field hockey competition for female hockey players. All of the qualifications as well as the final tournament follow the same lines as the men's competition. The tournament is organized by the FIH, which stands for the International Hockey Federation that merged with the IFWHA, which stands for the International Federation of Women's Hockey Associations back in 1982.
This competition has been held once every 4 years ever since the merge happened, and it takes place on the same year as the men's hockey world cup event, which is mid cycle between the Olympic games of the summer. Since the tournament began, four teams have been dominating it. These 4 teams are Australia, Germany, Australia and the Netherlands. The Netherland is the most successful one as it has won the golden trophy for 7 times while the rest of the teams won the title of the competition twice each. There is no limit on the number of teams in the competition as the number of teams kept increasing from 10 countries in 1974 and to 16 countries in the upcoming 2018 edition.
Canadian Women in Hockey
Organized hockey for women has its origins dated all the way to the late 1800's.  Hockey for women in Canada started at Universities.  The WHA states that its first game hosted was located in Ottawa around 1891.  Then nearly thirty years later, the first trophy for women's hockey was donated and Canadian Competitive Women's Hockey in Canada was formed.  The sport was later included in the 1998 Olympics for the first time ever.  It has since been in several Winter Olympics and in the Canada Winter Games.  A major milestone of the overall acceptance of Women's Hockey came with the induction of Angela James into the Hockey Hall of Fame in 210 as well as Cammi Granato an American.  These two women are now considered pioneers in the acceptance of Women in Hockey.